Coloma Community Park
Music: 6:30 – 8:30 pm
Food service begins at 5:30 pm
Starfire Family Band     Saturday, June 12
Family Band New to Coloma
Country Music
This is a new band for the summer concerts.  They specialize in Country Western music.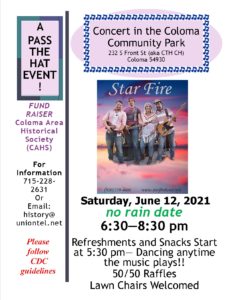 Del Ray's Concert and Cruise In
Tuesday     July 13
6:30 – 8:30 pm
Food Begins at 5:30 pm
Oldies (but goodies)
Plenty of room for dancing.
Bring your old car and receive preferred parking.
For poster, click here:    Del Ray Poster
Clauson Family Music Show     
Monday        July 26            Food Service begins at 5:00 pm 
Enjoy the Clauson Family Music Show 6:00 – 8:00PM in the Coloma Village Park in front of the caboose!  Bring your lawn chair, some park benches available.  Food and beverages will be available for purchase.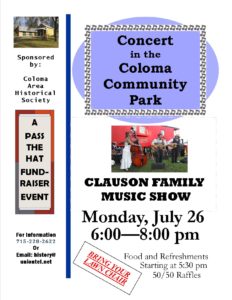 Join us in the park for a great summer concert !